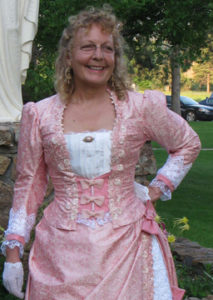 After much ado, and great relief, I have relocated from Colorado to southern Utah.  With a flair for the original, I have always been a highly artistic individual constantly pursuing some form of creativity whether costume, web design, sculpting or gardening. My background is comprised of just the right blend of professional talents to ensure your satisfaction. This includes a lifelong dedication to creating/designing costumes and clothing, combined with an industrial background in technology, business and marketing. My costume design and construction capabilities have earned many awards throughout the years.
With a deep interest in extant clothing, I have collaborated with a variety of museums to document, date and preserve clothing collections. When working with museums, I have had the privilege of examining many wonderful garments throughout the years. It is quite an experience to see how each garment was made and to wonder who the person was that wore it. Clothing always has, and continues, to tell us a story.
In addition to my love of costume, I have a passion for extant garment restoration and reproducing historical clothing. 2005 marked the release of the first buckram frame hat making patterns from Denise Nadine Design. On top of that, I have had the pleasure of teaching hundreds of people to make hats in workshops across the Colorado front range, including students at Colorado College.
Theater work has been an important part of my career having participated in various productions for Colorado College, Theaterworks, and the Fine arts Center.  It has been her privilege to work with Gypsy Ames, Costume Designer for Colorado College, bringing her creations to life.
As founder and past president (twice) of the Victorian Society of Colorado, I have organized many large events with public interaction teaching dance from the Victorian era.  Another fun passion is to make elaborate props and stage events for ambiance and maximum enjoyment. Involvement with the Costume Society of America as past Vice President and Newsletter Editor for Region VII, has led me to many adventures and friendships.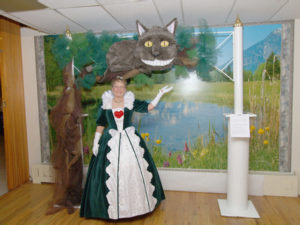 Workshops and lectures are available and can be customized for a particular audience.
Happy Costume Wearing,
Denise
Performance/Lectures
Dressing the Victorian Lady
Dressing Mr. Lincoln
Corsets and understructure of the Victorian era
Museum & Organization Affiliation
Palmer Lake Historical Society
Colorado History Museum
Ford's Theater Museum
Denver Museum of Art & Science
Old Colorado Historical Society
Pioneers Museum
Colorado Renaissance Festival
Victorian Society of Colorado
Gold Camp Victorian Society
Hands-On Workshops
Hat Making using a Buckram Frame
Corset Construction (Each participant makes their own corset)
Hat Embellishment Techniques
Bodice Draping and Patterning